Simple guide to make an attribution on
ICHIBU-GIN  一分銀
Inscription on reverse: 
銀座 Ginza : Place of mint  
常是 Joze : First name of the revisor
(family name: Daikoku 大黒)
It's the first name of the revisor of the silver mint. His former name was Yuasa Sakuheiei 湯浅作兵衛, he was a famous merchant in Sakai-shi / Osaka-fu and was very engaged for the government. Therefore Shogun Tokugawa Ieyasu honoured him with a new name Daikoku Joze 大黒常是  and the appointment as revisor of the new mint Ginza and so all his successors.
You can find his first name on certain Cho-gin, Mameita-gin and on all Shu and Bu-gin.
counterstamp:  定Tei  (fixed)
At first the style of those two characters 'Jo' and 'Ze' will help, but for the precise attribution are the cherry-blossoms (Sakura) Type 1 and their position important.
Type 1: medial petal pointing downwards
<![if !vml]>

<![endif]>
Type 2: medial petal pointing upwards
<![if !vml]>

<![endif]>
Sakura of type 1 only one each on obverse and reverse, signed with a big and small latin letter. Some varieties has no Type 1, then in such case for obverse the capital letter 'Z' and for reverse the small letter 'z' is used.
Concerning Tenpo Ichibu-gin: 
according to scholars opinion are more reverse-varieties possible but not yet found, those are marked with a star (*) in the list below.
<![if !vml]>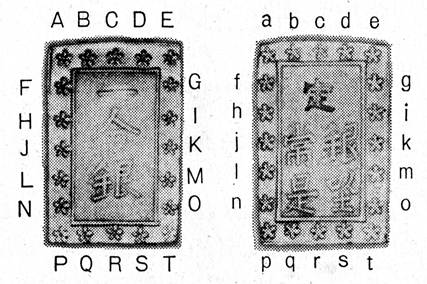 <![endif]>
Tenpo Ichibu-gin Shonai 庄内 type
<![if !vml]>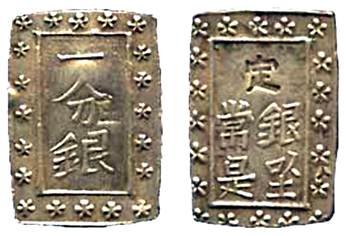 <![endif]>
counter stamp 'Y' on reverse > position between m and o > Sakata
From Keio  慶応 4 (1868) 5th month 20th day to 6th month 15th day 1720000 Ichibu-gin = 430000 Ryo  両  of Tenpo issues (1837 – 1854) were counterstamped with SHO  庄 at two mints in the domain of the Shonai-clan  庄内藩 in Uzen  羽前  ( today Yamagata-ken  山形県). At Sakata  酒田  (1200000) and Tsuruoka 鶴岡  (520000).
The reason for counterstamping was to differentiate the varieties of high content of silver from those of low content (Ansei Ichibu-gin).
All varieties have the counterstamp SHO on obverse and an additional punched 'Y' on reverse, the position makes clear where the coins were counterstamped:
lower left side > Tsuruoka 
lower right side > Sakada
Time of circulation: only Keio 4 (1868) - Meiji 2 (1869)